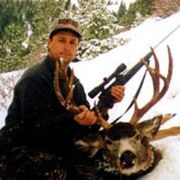 Guided Rifle Hunts, Elk, Deer
Guided Rifle Hunts, Elk, Deer at Libby, Montana (MT) is a Big Game hunt on

public land

that starts on October 26th until November 27th.Costs from 

$3500

.We are hunting Deer, Elk, Mule Deer, Whitetail Deer, Rocky Mountain Elk, Black-tailed Deer and Northwest Whitetail Deer.
Description
With over 700,000 acres, 2 bases of operation to work from, knowledgeable guides that live in the area, Every type of terrain and habitat structure, Good Healthy populations and Excellent Quality, We can give virtually every type of hunter a good hunting experience! Our area is Public and Timber Co. lands, With Silver Bow Outfitters being the only Licensed Outfitter. We offer a fair chase hunt in an area with low to no off road hunting pressure! Comfortable accommodations, good food, and a friendly, knowledgeable staff, help ensure You of a Quality experience!
Pricing Details
1 guide:2 client - 5 day hunt $3,500 per person
All hunts are 1 guide for 2 clients. Note: 1 guide :1 client hunts available, call for pricing
Max party size 8 hunters
Non-Hunters @ $125 per day per person
Terms & Conditions
Deposits & Payments: All bookings for Rifle Elk/Deer hunts require a 25% Initial deposit, with a Final deposit payment of 25% due by May 10th of the hunt year. Hunt Balance is due by October 10th. We accept Personal Checks. Deposits are non-refundable. Clients who terminate their hunt early, for whatever reason, will not receive a refund for remaining days.
License Deadlines: For Rifle Elk/Deer hunts, you must apply by March 15th. Surplus tags may be available. Big Game Combination license, Cost, $976. Apply on-line @ Montana Dept. Of Fish, Wildlife & Parks, non-resident licensing
Breakdown
Glacier Park International Airport (FCA)
From October 26th to November 27th
Deer, Elk, Mule Deer, Whitetail Deer, Rocky Mountain Elk, Black-tailed Deer, Northwest Whitetail Deer
Accommodate Disabled Clients?
Rifle, Muzzleloader, Handgun