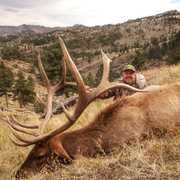 Bighorn Sheep Hunts
Bighorn Sheep Hunts at Wheatland, Wyoming (WY) is a Big Game hunt on

private land

that starts on September 1st.Costs from 

$6500

 to 

$11000

.We are hunting Sheep, Bighorn Sheep and Rocky Mountain Bighorn Sheep.
Description
Fully guided 10 day hunt in Wyoming Area 19 based out of a centrally located Hunting Lodge. We include a full time cook, food, transportation and entire animal recovery from the rugged Moonshine/Reese Mountain Basin. We have prime access to this beautiful area with all the resources necessary to ensure the hunt of a lifetime. Sleep in a beautiful hunting lodge every night and chase Rams during the day via our wonderful access to this timeless wilderness.
Pricing Details
This 1x1 guided hunt actually includes a team of support staff including a full time cook, animal recovery team, and pre-season trophy scouting reports. Additional days past the 10 day hunt time frame are negotiable.
Breakdown
Sheep, Bighorn Sheep, Rocky Mountain Bighorn Sheep
Accommodate Disabled Clients?