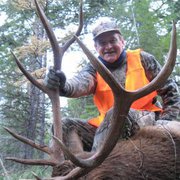 Rifle or Archery Elk/Deer Combo
Rifle or Archery Elk/Deer Combo at Montana, United States, Montana (MT) is a Big Game hunt on

public land

.Costs from 

$4500

 to 

$5250

.We are hunting Deer, Elk, Mule Deer, Whitetail Deer, Rocky Mountain Elk, Black-tailed Deer, Northern Whitetail Deer and Northwest Whitetail Deer.
Description
Montana State offers a combination license; with Cody Carr's Hunting Adventures you are able to hunt a Rocky Mountain Elk in combination with a Mule Deer OR White Tail.
Our hunts are lodge style hunts on 2.5 million acres of Federal/State and a small percentage of private land. It's a spot and stalk hunt on foot with the option to use horses. The lodge is anywhere from 15min to an hour from the start of your hunt.
-Archery season starts the first Saturday in September and runs five weeks. *MT does not allow crossbows to be used during Archery
season.
-Rifle season ends the Sunday after Thanksgiving and runs five weeks backwards. Typically starting the last week in Oct and running through that Sunday.
Pricing Details
-First week in rifle season is a 7 day hunt, that week is $5250. The other four weeks are 6 day hunts at $4500. Archery season is set up to be 7 day hunts with 6-5 day hunts available on request.
-Price includes: transportation to and from the airport, lodging, 2:1 guided, and your food. 
-Your guide will cape, quarter, and pack your game for you. Horses are also available at no extra charge.
-Price does not include: your guides/cooks tip, your butchering costs, taxidermy, licenses, and airfare. 
-Though your butchering and taxidermy costs are on you, Cody takes care of the process for you, making it as easy as possible.
Terms & Conditions
-For current year bookings a 25% deposit is required. 
-For future bookings a 10% deposit is required.
-After your first deposit an affordable payment schedule is set up to have your hunt fully paid before your arrival.
-If for any reason you are unable to come during your original week, Cody will rollover your funds into a different year or hunt.
Breakdown
Missoula International Airport (MSO)
Deer, Elk, Mule Deer, Whitetail Deer, Rocky Mountain Elk, Black-tailed Deer, Northern Whitetail Deer, Northwest Whitetail Deer
Accommodate Disabled Clients?