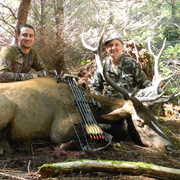 Elk, Deer, Bear Hunts
Elk, Deer, Bear Hunts at Oregon, United States, Oregon (OR) is a Big Game hunt.Costs from 

$1900

 to 

$6000

.We are hunting Bear, Deer, Black Bear, Elk, Mule Deer, Roosevelt Elk and Black-tailed Deer.
Description
Specializing in Black Bear Hunts has been very rewarding for me. I use the Spot and Stalk method, combined with the Great Oregon Coast Terrain.. it has been a great success for my Clients, we find that our hunts have nearly a 80% shooting ability. Most of the Bears we spot are on average 6'. These are very exciting and rewarding adventures.. Roosevelt Elk Hunting takes place in the dense, restricting cover of Oregon's Coastal range from the massive old growth forest to the reprod. The hunts are Spot and Stalk Method as well as calling Herd Bulls during peak of the rut. Deer - Our Hunts take place is several Locations on the Southern Oregon Coast.During Rifle season we use the Spot and Stalk Method yielding our highest results. During Archery Season we use the same method but add Rattling and calling to bring in some Excellent Bucks.
Pricing Details
Pricing Archery/Rifle, Roosevelt Elk 6 Days $6,000.00 Archery/Rifle, Black Tail Deer 6 Days $5,500.00 Rifle Black Bear 6 Days $1,900
Terms & Conditions
Deposits and Booking All Bookings need to be made by August 1st We have a lot of responsibilities to take care of before you arrive. We have a fair payment plan set-up to make our hunts available to everyone. *If you book a hunt over the phone we will hold it for 7 days to allow time for the deposit to arrive. *We will not hold a spot without a deposit *We require 50% of booking to hold your spot. *Deposits are non-refundable are required. *In the event of a Emergency your deposit maybe used for another open date. *We can purchase your Tags and License for you for an additional Fee.
Breakdown
Bear, Deer, Black Bear, Elk, Mule Deer, Roosevelt Elk, Black-tailed Deer
Accommodate Disabled Clients?