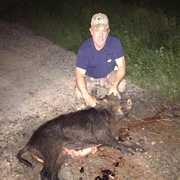 Furbearer Hunt
Furbearer Hunt at Oklahoma (OK) is a Furbearer hunt.We are hunting Racoon and Raccoon.
Description
If you would like to hunt Coyotes, Bobcat, Fox, Raccoons or any other legal species during Oklahoma Fur Bearer season please contact us. You can call, run traps or both. The river area is particularly thick in Coyotes and Bobcat.
For pricing details contact the Outfitter!
Breakdown
Accommodate Disabled Clients?