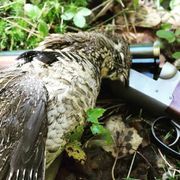 Black Bear Hunting in Maine
Black Bear Hunting in Maine at Jackman, Maine (ME) is a Big Game hunt on

private land

that starts on September 30th until September 30th.Costs from 

$1000

 to 

$2500

.We are hunting Bear, Black Bear and Eastern Black Bear.
Description
Especially good setup for youth/elderly/handicapped persons. Everything is included... Food, lodging and care of animal after the hunt.
Accessibility Details
Call for details.
Weapon Details
Recommend scoped large calibre rifle as shots will be 175 yards exactly
Pricing Details
3 days/2 nights Package Price: $1,000 per hunter Deposit: $500
Non Hunting Guest: $300
Breakdown
From September 30th to September 30th
Bear, Black Bear, Eastern Black Bear
Accommodate Disabled Clients?